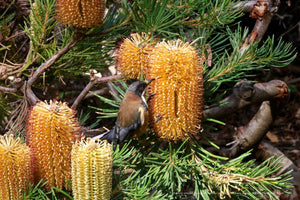 Banksia spinulosa var. spinulosa
Regular price
£12.50
£0.00
Unit price
per
This Banksia has a common name of Hairpin Banksia. It will become a shrub type Banksia with yellow- orange flower spikes 75-100mm wide and up to 450mm tall in it's native country of Australia.
The narrow leaves have serrated edges. These sometimes disappear when the plant matures as well as the edges roll inward.
They are best grown in full sun in a medium soil that is free draining with waterlogging best avoided. They are drought and frost resistant and very hardy due to them having a lignotuber.
---